The Iron Tigers participated in both Operation Desert Shield and Desert Storm from Dec 1990 - Feb 1991 with the 1st Armored Division, VII Corps, 3rd Army. The map below shows the entire Gulf War Campaign.

In Dec 1990, the Iron Tigers deployed from Erlangen, West Germany to Saudi Arabia as part of Operation Desert Shield. The battalion's tanks (M1A1 Abrams) and vehicles were transported from Erlangen to Bremerhaven where they were put on ships and sailed to Saudi Arabia. The battalion's personnel flew from Germany to Saudi Arabia. Most of them flew on December 31, 1990.

Once the battalion landed in Saudi Arabia, it stayed in Al Khubar Towers. Between Jan 1991 and the middle of Feb 1991, the battalion off-loaded their tanks and vehicles from the ships and moved them out to the desert along with the personnel to the battalion assembly area just south of the border between Saudi Arabia and Iraq, near the town of Hafir Al Batin.

On Feb 24, 1991, the battalion attacked into Iraq as part of the ground campaign. The first battle that the Iron Tigers participated in was an attack on the town of Al Busayyah, where a major Iraqi logistics center was located. It was defended by infantry units reinforced by tanks and the Iron Tigers quickly defeated them. The Iron Tigers then assisted in destroying a brigade of the Adnan Republican Guards Division at the Ar Rumaylah Airport. Once that was completed the Iron Tigers participated in the largest tank battle of the war, where they assisted in destroying an entire brigade of the Medinah Republican Guards Division. For their efforts in the liberation of Kuwait, the battalion was awarded the "Valorous Unit Award".

After the cease fire on Feburary 28, 1991, the battalion maintained a combat posture and stayed in northern Kuwait and then moved into southern Iraq guarding the Kuwaiti border until the end of March. In April, the battalion moved back into Saudi Arabia to stand down and start redeploying some of its troops back to Erlangen. By the first week of May, the main body had redeployed back to Erlangen. Their vehicles and equipment would arrive back to Erlangen by that summer.

Below are photos of the Iron Tigers during Desert Storm.
OPERATION DESERT STORM MAP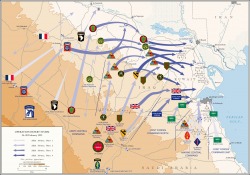 If anyone would like a copy of our "Valorous Unit Award" orders or copies of our orders authorizing us to wear the 1st Armored Division Combat Patch or the National Defense Service Medal, e-mail me at: webmaster@irontigers.org